'We All Need To Stop And Ask For Change'
Posted on October 19, 2019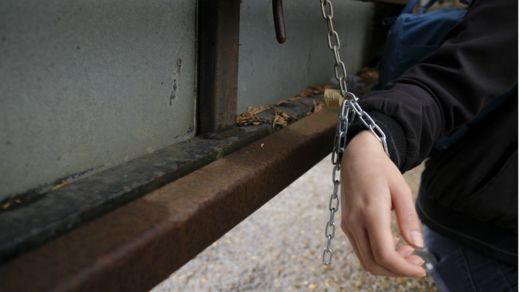 Just days after animal justice group Animal Rebellion was banned from protesting in London this week, they stormed Newman's Abattoir in Farnborough and u-locked and chained themselves to a slaughter truck.  Eighteen arrests were made, and three activists have been charged as a result of the action.
Excerpts:
"It was our duty to come here and make these demands – that we must transition to a sustainable food system, and stop exploiting the millions of cows, pigs, sheep, and goats who pass through this slaughterhouse every year. Our activists arrested this morning are heroes and will be remembered for this courage in the face of harsh police tactics."
"Animal Rebellion accepts the need to support meat industry workers to transition to the production of alternative products, and calls on the government to immediately implement policies to support this change towards a plant-based food system, and work, for example, with the Vegan Society's Grow Green Campaign, that helps farmers transition from meat and dairy to veg production".