There is no such thing as an ethical carnivore
Posted on March 17, 2021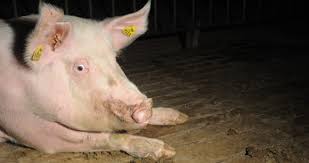 In 2016 British author and journalist Louise Gray wrote a book entitled 'The Ethical Carnivore: My Year Killing To Eat'.  In this Guardian article she describes her visit to a pig slaughterhouse for the first time.
"I follow Phil into the "killing room" and force myself to look. The pigs come in two by two, because they are the most intelligent, "the most pally", of animals, and because they do not like to be alone. The two slaughtermen stand above the pigs in a small stall – strong men, able to keep the pigs back with their legs". 
"They say it happens quickly and it does. But you know what? It is not the killing that is the most violent thing. It is what happens next: it is the skinning, the burning, the boiling … the evisceration".
'The men can kill 20 pigs in an hour,' says Phil. 'They work eight-hour shifts from 7am to 4.30pm, with breaks." It is a hard, physical job: they are as strong and unfeeling as the iron equipment, busy, alert, with ruddy cheeks; one has diamante earrings like David Beckham'.
It is an interesting read, but at End Animal Slaughter we believe that there is nothing ethical about killing animals for food when we don't have to.    Alternative protein 'meats' do not involve the suffering and killing of any sentient animal and are more sustainable for the planet.  They are the future of food.