The euthanasia of four male baboons highlights one of the problems with zoos
Posted on March 8, 2019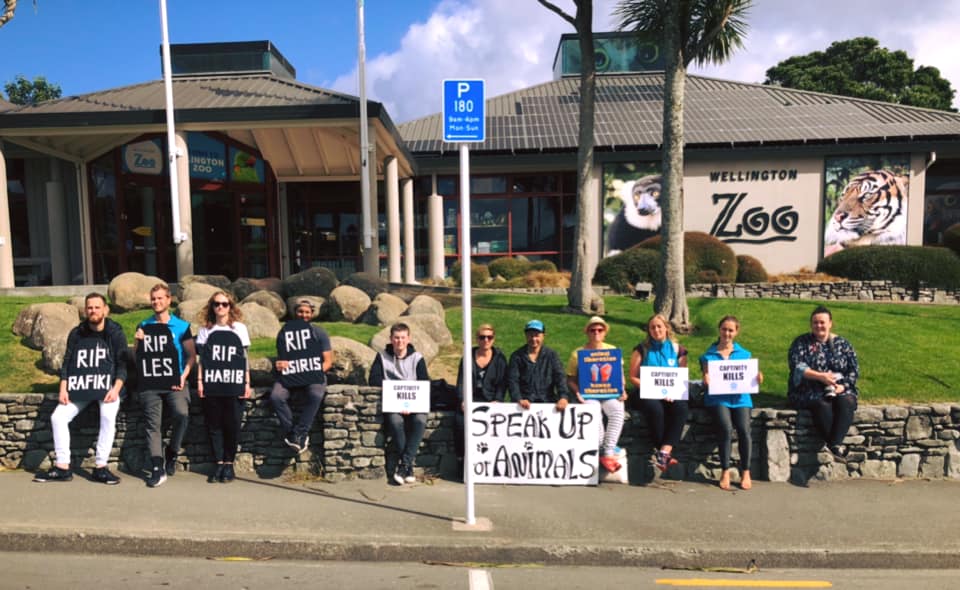 The recent euthanasia of four male baboons at Wellington Zoo highlights some of the problems and difficult decisions that Zoo staff have to make.   While the baboon's social structure breaking down was the reason for putting the animals to sleep,  it also shows that keeping animals in captivity in zoo-like situations cannot meet their behavioural and habitat needs.
End Animal Slaughter contributor Sonja Penafiel Bermudez's organisation 'Speak Up For Animals' and Animal Rights organisation Save Animals From Exploitation staged a vigil outside the zoo.
Sonja writes:
Not long after our group (Speak Up for Animals supported by SAFE) arrived outside, staff from the zoo came to speak to us about the recently euthanised baboons. We expressed acknowledgement at the sadness they may be feeling as having relationships with the baboons, but also that we felt that the situation hadn't been dealt with appropriately. We said we supported the rehabilitation and rescue work that The Nest (part of the zoo) partakes in but did not agree with animals in captivity for entertainment.
We questioned why the Zoo did not contact HUHANZ  considering the sanctuary is licensed to re-home primates. Their reply was that moving the animals would not have solved the problem and we openly disagreed with this. We expressed that when animals are in captivity the social relationships and mental and physical health are under strain due to a small social circle and limited space. In the end we agreed to disagree about wild animals in captivity. We also asked for them to think about future similar issues when importing or breeding other species at the zoo, for example the snow leopard due soon.
Thanks to all that came out and supported us in our action for the babboons.   Rafiki, Habib, Les and Osiris – you will not be forgotten.
Sonja's interview with 95bFM
http://95bfm.com/bcast/calls-for-zoo-boycotts-with-sonja-bermudez-march-1st-2019?fbclid=IwAR0UcsDyve2KBIrRMpiw-rBXxWz4_gEXdo6Pac-nGmPJFYKfQSJ71sZ-91U
Article about the baboons' euthanasia
https://www.stuff.co.nz/national/110816348/wellington-zoo-euthanises-four-male-baboons