How I Became A Voice For The Animals – VEGAN VOICES writer Shweta Borgaonkar
Posted on June 10, 2022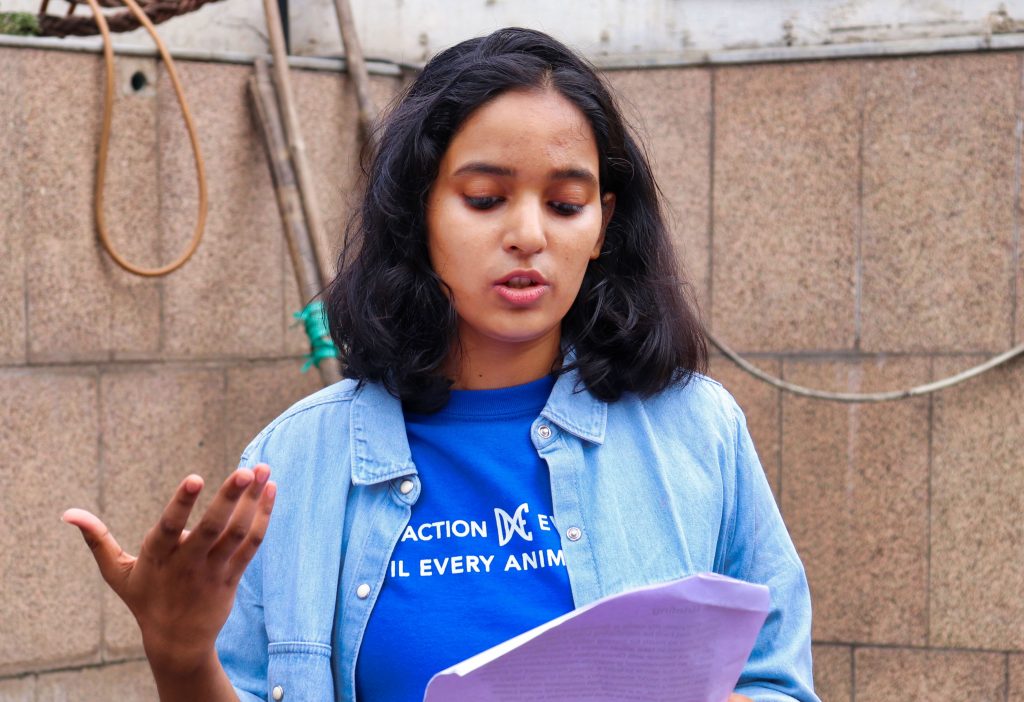 Next in our series on the writers of "VEGAN VOICES –  Essays by Inspiring Changemakers", is Shweta Borgaonkar.  
Shweta is an animal rights activist from Pune, India. At the time of this essay, she is twenty years old, and her mission in life is to create a world where all animals are respected and treated as individuals. She started out volunteering at adoption camps for stray cat sand dogs and joined a vegan activism group at the age of sixteen.  She co-organized Pune's first Animal Libertion March in 2018 and the Pan-India Animal Liberation March in 2019. Shweta has also led training sessions to help activists become better organizers.  She co-organized the Pune chapters of Direct Action Everywhere (DxE) and the Animal Save Movement. Currently, she is doing undergraduate work in the field of commerce and is an aspiring law student.  
Extract from her essay in VEGAN VOICES:
"I grew up in a city with not many animals around.  Growing up with a lack of interaction with animals, I was scared of them. This changed when Girija, a street dog, came into my life. In the beginning, I used to be so scared of her that I would walk on the edge of the road to avoid being in close proximity to her. But slowly, with her beautiful black eyes and wagging tail, she made my fear go away and became my best friend. This was the first time I had connected with a nonhuman animal so deeply. Something inside of me loved her unconditionally and she loved me back unconditionally.
One day, I went to class and everyone told me that Girija was no more. She had been hit and killed by a vehicle. I was devastated. I somehow controlled my tears in class… but I knew she didn't deserve to die like this. She deserved a safe home with a loving family.  She deserved to live in a world where everyone respected her, where she had access to medical care and food, and where her life was valued. As Girija left my life, she left me with a purpose in life – to create that world for her fellow Earthlings". 
Review of Vegan Voices by Bruce Friedrich, Co-founder & Executive Director, The Good Food Institute:

"There are as many reasons to be vegan as there are vegans, as this lovely anthology makes clear. So many of my heroes in one place—what a treat. Read it and be inspired."
Vegan Voices: Essays by Inspiring Changemakers
Available at Lantern Publishing & Media
Paperback ISBN: 978-1-59056-650-3
eBook ISBN: 978-1-59056-651-0