A mirror to our lazy brutality and inhumanity – the work of 'Artivist' Philip McCulloch-Downs
Posted on July 17, 2021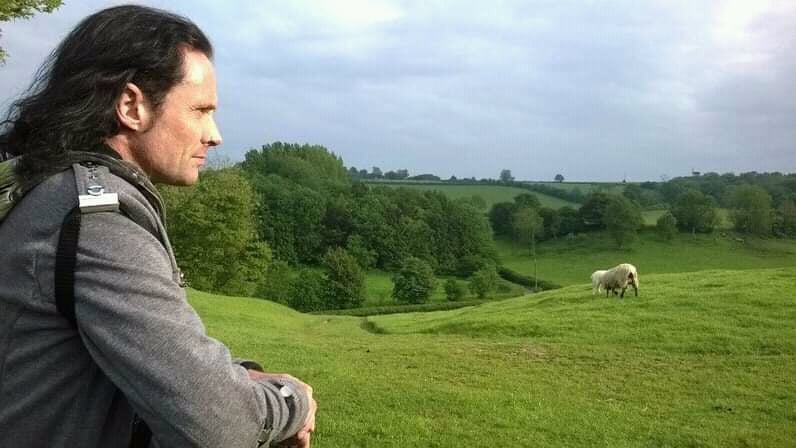 In this article, End Animal Slaughter pays tribute to the work of 'artivist' Philip McCulloch-Downs. 
"I feel privileged to be a voice for the voiceless – to hold up a mirror to our society and its lazy brutality and inhumanity, and I'm proud to be able to commemorate the forgotten, the hopeless and the unloved – my art is 'compassion on canvas'." 
You

can follow Philip on his website; on Instagram; and on

Etsy

.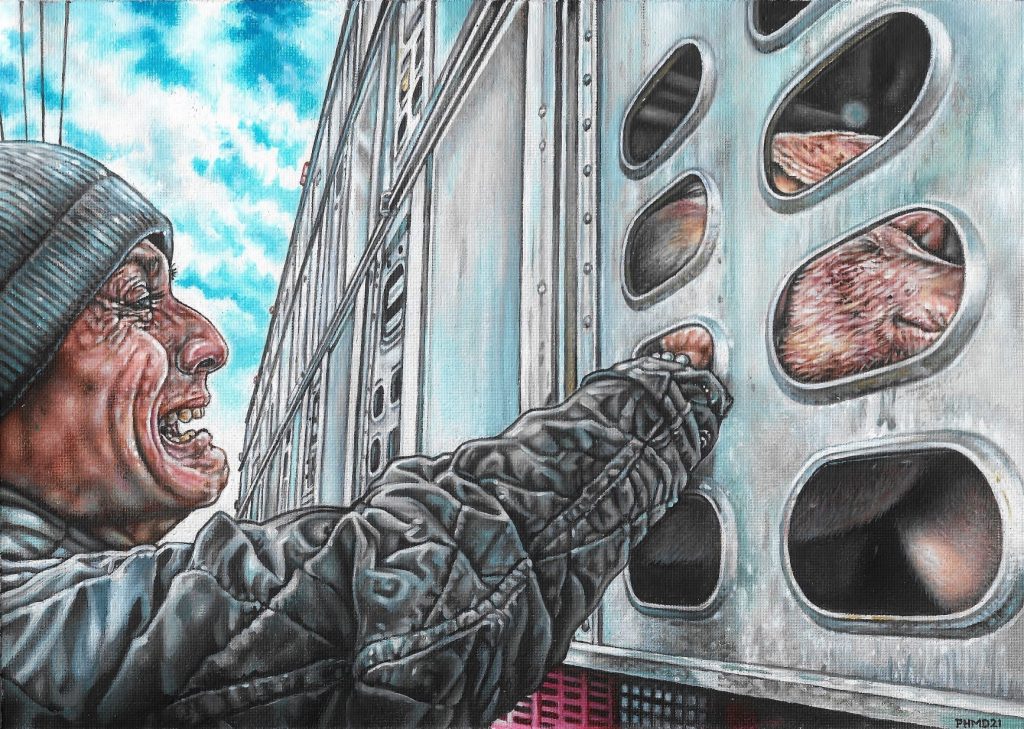 [learn_more caption="Where did you grow up?" state="open"] I grew up in Malvern in Worcestershire, which is a very green town on the slopes of the lovely Malvern Hills (home of Edward Elgar and Malvern Water). [/learn_more][learn_more caption="Where are you based now?" state="open"] Nowadays I live and work in Somerset in the south of England, in a tiny hilltop hamlet near to Bath, Bristol and Wells.[/learn_more][learn_more caption="Have you always loved animals?" state="open"] Ever since I was little my family have had pet cats, and so I was always taught to respect and love animals as equals. According to my parents I apparently had a very visceral reaction against farms when on school trips to see dairy/sheep farms, and I always found eating meat an innately disgusting thing to do. My dad had an allotment, so I could see where all our vegetables came from, and the meat seemed to me to be an alien and unnatural substance to find on my plate. I would secretly hide it in the cat's food bowl! It drove my parents mad, until my mum discovered soya chunks at the local supermarket when I was 8 years old.[/learn_more] [learn_more caption="Can you describe your vegan journey? " state="open"] At 19, I became vegetarian overnight after being caught at traffic lights, eye to eye with sheep in a truck transporting them to slaughter. My girlfriend of that time said to me 'How can you justify eating meat after seeing this?'. I couldn't, so I changed my diet. Sadly it took me another 16 years to become vegan. This second change happened because, when I moved to Bristol, I volunteered at a local animal rights organisation and was exposed to all the information about dairy, eggs, leather, etc and simply couldn't find any way to continue without changing my lifestyle once again. It was a relief to finally find a way to live ethically and healthily – as with most people's vegan journeys, it was simply lack of information (and an unhealthy dose of cognitive dissonance) that had prevented this simple moment of clarity and conscience to allow me to be a better person.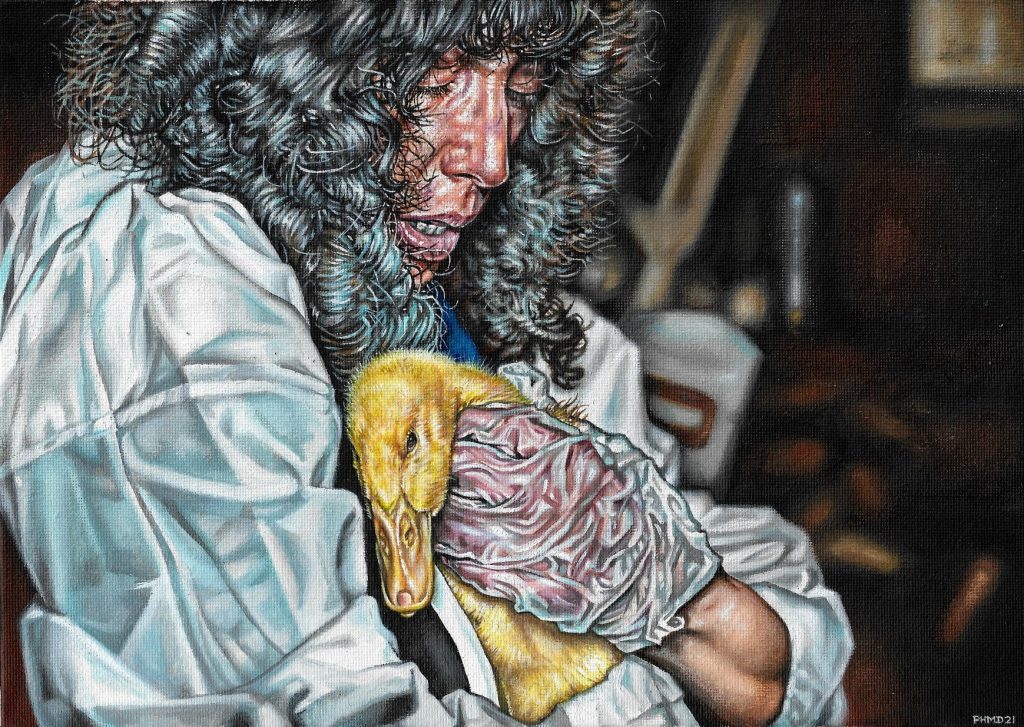 [/learn_more] [learn_more caption="Did you have formal training in Art?"] I have been painting and drawing since I was an infant (and now video-making and novel/poetry writing) – always encouraged by my parents. After doing my art 'A' level, I pursued my calling through a foundation course, then an illustration degree, and onwards into just over a decade of freelance graphic design/illustration work, until I chose my vegan path through life at the AR organisation. After s futher nine years there ( continually painting and writing my own personal work in my free time) I eventually combined my art, ethics and information from my job and became an animal rights artist. [/learn_more] [learn_more caption="How would you describe your style?"] I work in a very detailed and realistic manner, using no stylistic tricks, and following a very traditional method of paint on canvas. I mostly work very small – people seem constantly surprised that most of my images are A4 size. It's handy for storage in my tiny home studio, and due to the complex detail in them, they can very easily be enlarged to A0 size digital prints if necessary, and still look visually effective.[/learn_more] [learn_more caption="How do you work? (Materials, process, etc)" state="open"] I paint a lot of grass/rusty metal/animal fur – these aren't clean flat areas of colour and texture, so I find I work quickly and intensely (wearing out a lot of tiny brushes!) which acrylic paint is the perfect medium for as it's quick drying and this allows me to build up many thin layers of paint very rapidly.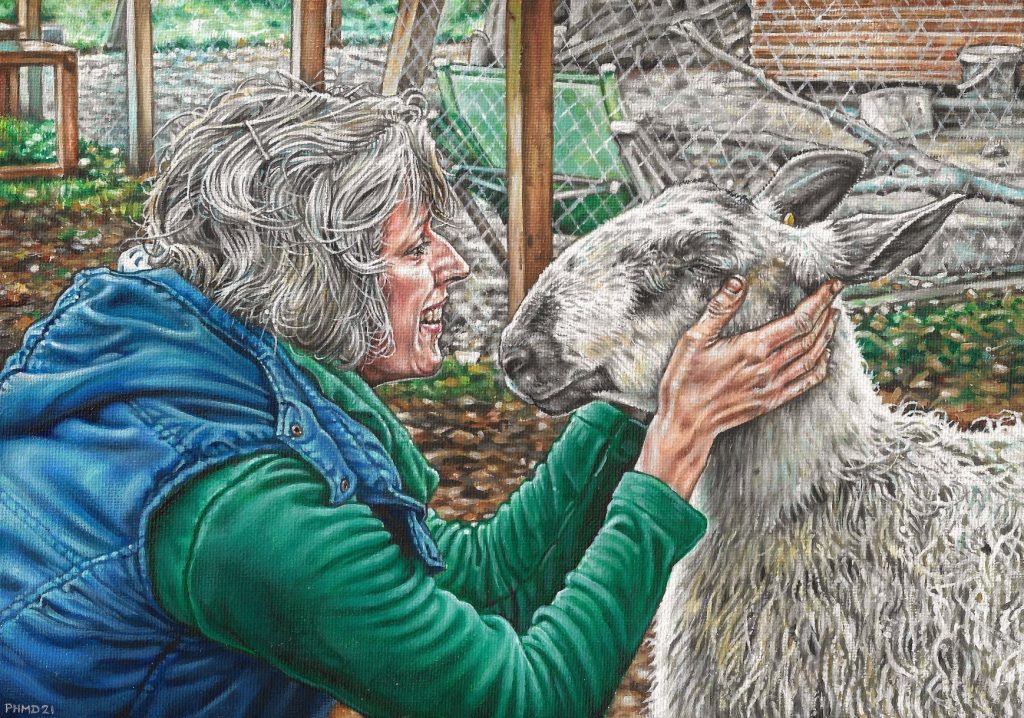 I'm happy to categorise my art as 'Vegan Art', 'Animal Rights Art', 'Protest Art' 'Reportage', 'Animal and Human Portraiture', or any other niche title, but what I'm aiming for is to blend all these together and simply have the viewer see my work as 'Art' (or 'Fine Art' if that's the terminology that allows me to get my work into galleries). [/learn_more] [learn_more caption="Is Protest Art powerful as a kind of activism? Why?" state="open"] This work demands to be seen. The issues are so urgent, the crimes of factory farming so vile, the cruelty and abuse so well-hidden, that I want this imagery to be seen and discussed everywhere – on the streets, in galleries, restaurants, on protests, in short films, at festivals… wherever. I want to grab attention, to offend, to upset, to inform, to have people see the previously unseen, to make them think, empathise, learn, and change. I have never felt so passionately about anything. I feel privileged to be a voice for the voiceless – to hold up a mirror to our society and its lazy brutality and inhumanity and I'm proud to be able to commemorate the forgotten, the hopeless and the unloved – my art is 'compassion on canvas'. [/learn_more]