SLAUGHTERHOUSE VIGILS, Whanganui and Christchurch (NZ), 13 October, 2019
Posted on October 14, 2019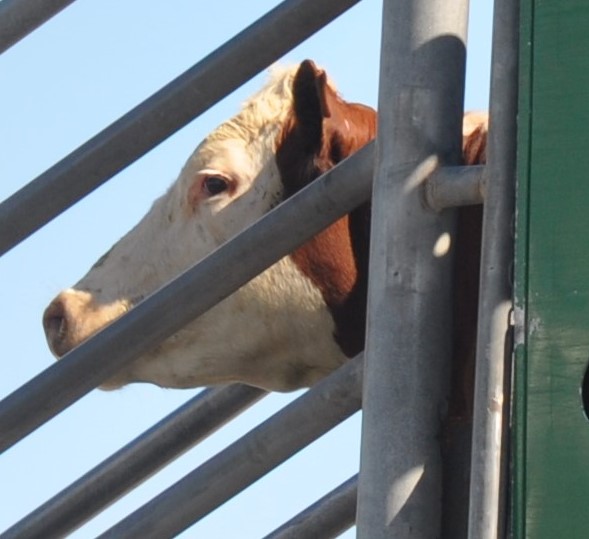 END ANIMAL SLAUGHTER'S SANDRA KYLE, (70), DOES TWICE WEEKLY VIGILS, OFTEN ALONE, OUTSIDE ONE OF TWO SLAUGHTERHOUSES IN HER HOME TOWN OF WHANGANUI, NEW ZEALAND.   SHE IS PART OF THE

WORLDWIDE  ANIMAL SAVE MOVEMENT

, THAT HAS NEARLY 900 GROUPS ON FIVE CONTINENTS. NEW ZEALAND HAS FIVE ANIMAL SAVE GROUPS WHOSE REGULAR ACTIONS OUTSIDE SLAUGHTERHOUSES ARE GROWING IN STRENGTH AS MORE VEGANS BECOME ACTIVE FOR THE RIGHTS OF THE INNOCENT AND THE DEFENSELESS.  
JOY ANN SATCHELL, (73),  OF THE CHRISTCHURCH (NZ) ANIMAL SAVE GROUP ALSO DID A SOLITARY VIGIL THIS WEEKEND.   AN EXCERPT FROM HER REPORT:

'It was a new experience standing alone at the slaughter house gates. I spent more time talking to the animals, over and over, I told them how sorry I am. I told them, I see you and this is goodbye.  Seeing the trucks arrive carrying their precious cargo, I felt deeply sad…. The sadness only strengthens my resolve to fight harder.
There they stand these beautiful, gentle cows, waiting in holding pens until tomorrow. In the morning they will be herded through the slaughter house doors, and they will be murdered with a knife across their throat. Bodies to be chopped up, wrapped up and put on display in a supermarket. This is the sole purpose they they were born, to fill the appetite of people who crave dead flesh.  They have as much blood on their hands as the slaughter house worker. They support this horrific industry'.
AN EXCERPT FROM SANDRA'S REPORT
SLAUGHTERHOUSE VIGIL, Whanganui, 13 October 2019
With Monika still away in Australia I was by myself again today.
As the sheep and bobbycalf slaughterhouse wasn't receiving cattle today, I went to the nearby cow and pig slaughterhouse and stood on the roadside with my signs. I have never noticed a gender bias for drivers' positive toots, although more males yell out expletives and give the finger and other gestures of disapproval than females do. I had quite a few of those today, plus a man who pulled up beside me and angrily told me off for trespassing.
I walked around the side where the pens are and looked over.   A group of Black Angus were directly below me. I have noticed that Black Angus tend to be more agitated than the other breeds of cows I see, who I would describe as looking more scared and depressed. Can anyone who knows more about cattle than I do tell me why this would be? Why would Black Angus be visibly more agitated than other cows? Are they known for being more highly strung?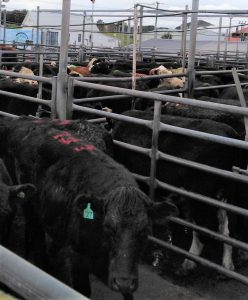 I stood in the part of the forecourt that is designated as pedestrian and took photos of animals who arrived in two truckloads. The sun was shining and there was little wind, and although I was more than thirty feet away, the animals could clearly hear me talking to them: 'Hello my darlings, Hey babies! How are my boys?' How are my girls? You're so beautiful. I love you so much. You're so beautiful, aren't you babies?'. I also sang to them, 'Om Sri Ram Jai Ram Jai Jai Ram' – over and over again, until every cow was unloaded from both trucks.
I know many dedicated animal activists who won't do slaughterhouse vigils, because it is so confronting and so depressing. I understand that; I still get depressed, every single time. Yet even though the sights, the smells, and the sounds – metal doors clanging, chaotic hooves on wooden ramps, rough shouts from the workers – play on my mind, I still want to do this work. Seeing the poor animals makes me all the more determined to do everything I can to stop the terrible injustice.