PIG FARM LIKE 'STEPPING INTO HELL'
Posted on December 10, 2019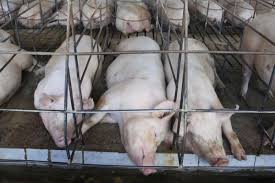 Today grassroots animal action group Direct Action Everywhere (DXE) entered a pig breeding farm in Quebec and refused to leave.
"I'm honestly just numb right now… what I witnessed in this 'family farm' in Quebec was the worst thing I've ever seen in my life, it was like stepping into hell," wrote DXE member Niño Bonito of the experience.
These hell-holes must be shut down.