Confessions of a 'Bug Girl' – VEGAN VOICES writer Claudia Lifton
Posted on July 22, 2022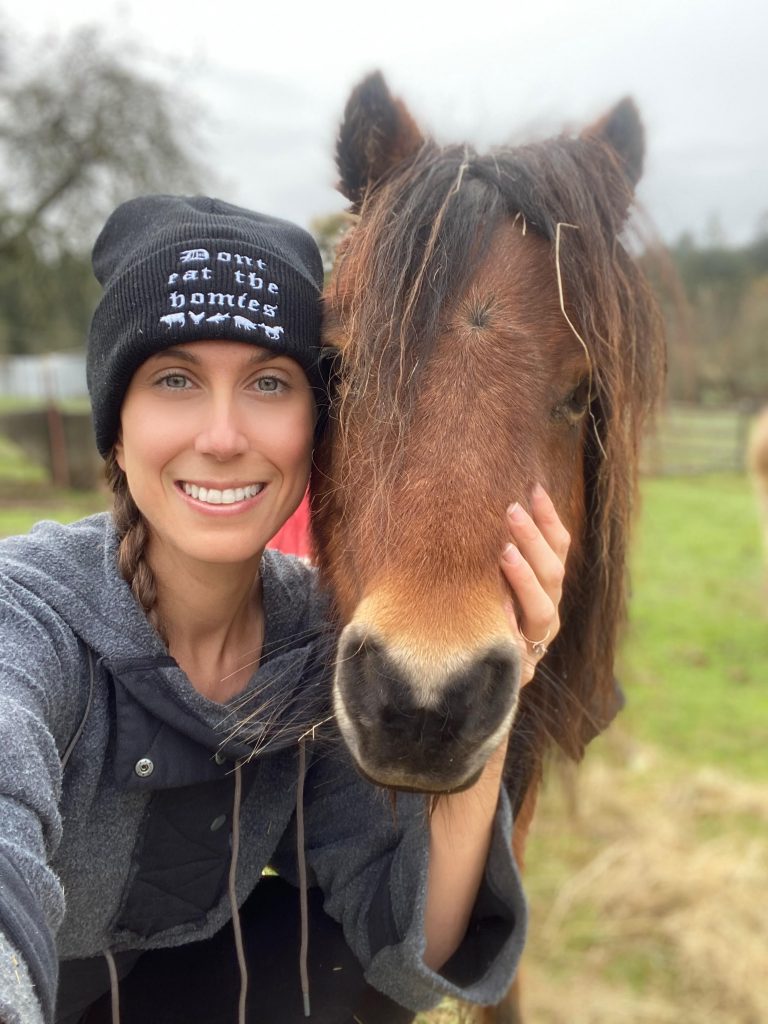 Next in our series on the writers of "VEGAN VOICES –  Essays by Inspiring Changemakers", is Claudia Lifton.
Claudia has been with the Factory Farming Awareness Coalition since 2015. Prior to working with FFAC, she travelled throughout Africa and Southeast Asia, working with locals to address concerns ranging from poaching, shark finning, overfishing, water access, animal tourism exploitation, to wildlife trafficking. She spent three summers working at Catskill Animal Sanctuary in New York, helping to run Camp Kindness, a summer camp where children learned about farmed animals, plant-based diet and nutrition, and effective advocacy. In her free time, Claudia enjoys attending concerts and festivals, hiking, camping, and cuddling with rescued farmed animals at her favourite sanctuaries.
Extract from her essay in VEGAN VOICES:
" It started with earthworms. While other kids played with Barbie dolls and Tonka trucks, I played with annelids and insects. I quickly became Highmount Avenue's resident animal rescuer. Neighbours would call my mom if they found injured butterflies, baby birds, or snakes. As my rescue services became better known, we had to convert our downstairs bathroom into a makeshift rehabilitation center, filled with creatures in need of a helping hand. The derogatory nickname I was given by my classmates in elementary school (which I later reclaimed as a badge of honor) was "Bug Girl….
.. "I've come a long way from "Bug Girl." I still love all creatures, big and small, but I've moved on from spending my days playing with earthworms and spiders to advocating for cows and pigs, from preaching to my fellow nine-year-olds about the cruelty of killing ants to standing in front of thousands of students a year, entreating them to stop harming chickens and turkeys. I've moved on from battling my teachers when they'd try to make us dissect frogs in the classroom to battling one of the most powerful industries on Earth, determined to intimidate me and my fellow activists into silence. I know that together, we will never stop fighting until every cage is empty."
Review of Vegan Voices by Bruce Friedrich, Co-founder & Executive Director, The Good Food Institute:

"There are as many reasons to be vegan as there are vegans, as this lovely anthology makes clear. So many of my heroes in one place—what a treat. Read it and be inspired."
Vegan Voices: Essays by Inspiring Changemakers
Available at Lantern Publishing & Media
Paperback ISBN: 978-1-59056-650-3
eBook ISBN: 978-1-59056-651-0