STANDING UP FOR GREYHOUNDS – New Zealand's First Trackside Greyhound Racing Protest
Posted on February 20, 2021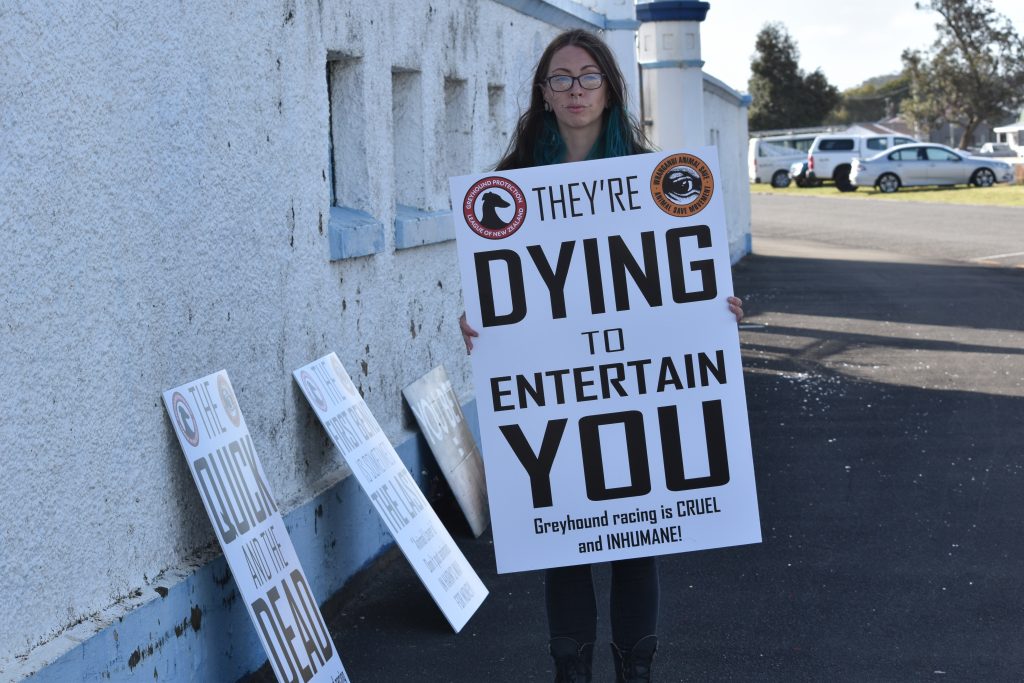 On 19 February End Animal Slaughter's Sandra Kyle (Whanganui Animal Save) was joined in front of Hatrick Stadium by several others to protest greyhound racing.   Here is her report.
Seven people turned up at our greyhound racing protest today, the first ever held at a track in New Zealand. Whanganui Animal Save was supported by the

Greyhound Protection League of NZ

(GPLNZ),

SAFE,

and

Aran Dog Rescue

.   New Zealand is one of only 23 countries in the world that still holds greyhound races. In this, as in other instances of animal welfare, we are lagging behind. At this particular stadium in Whanganui there were five greyhound deaths in a matter of weeks in December/January, and there are hundreds of deaths and injuries to dogs every single year in this country. Racing is inherently dangerous, and no way to treat a beautiful, loyal dog.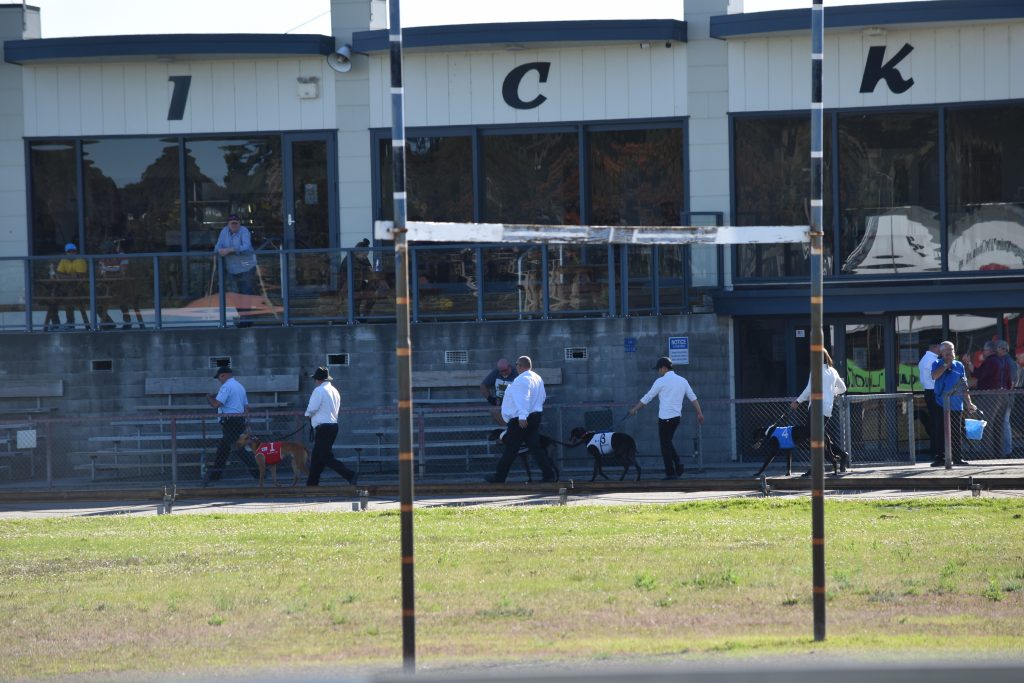 At one stage Lonia, Elizabeth and I spoke with passersby who had a rescue greyhound, and they applauded what we were doing. There were quite a few supportive toots, and thumbs up, but we were vilely abused by two men who were driving a horse welfare ambulance! One of us is going to make a complaint about this unprofessional behaviour. And we're not sure about what one driver who drove by shouted: 'We feed racehorses to greyhounds…' and will be looking into that.

Aaron Cross of GPLNZ who for so many years has campaigned sometimes singlehandedly against greyhound racing has a

petition

. Will you please sign it? For more information about this dubious so-called sport, you can go to the

SAFE website

and search for greyhounds. Gplnz.org is also an excellent resource for information.  Last week, NZ Green Party MP Chlöe Swarbrick announced she would be submitting a Members' bill seeking to ban commercial dog racing. Until it is banned, I and others will be protesting outside the racetrack every week.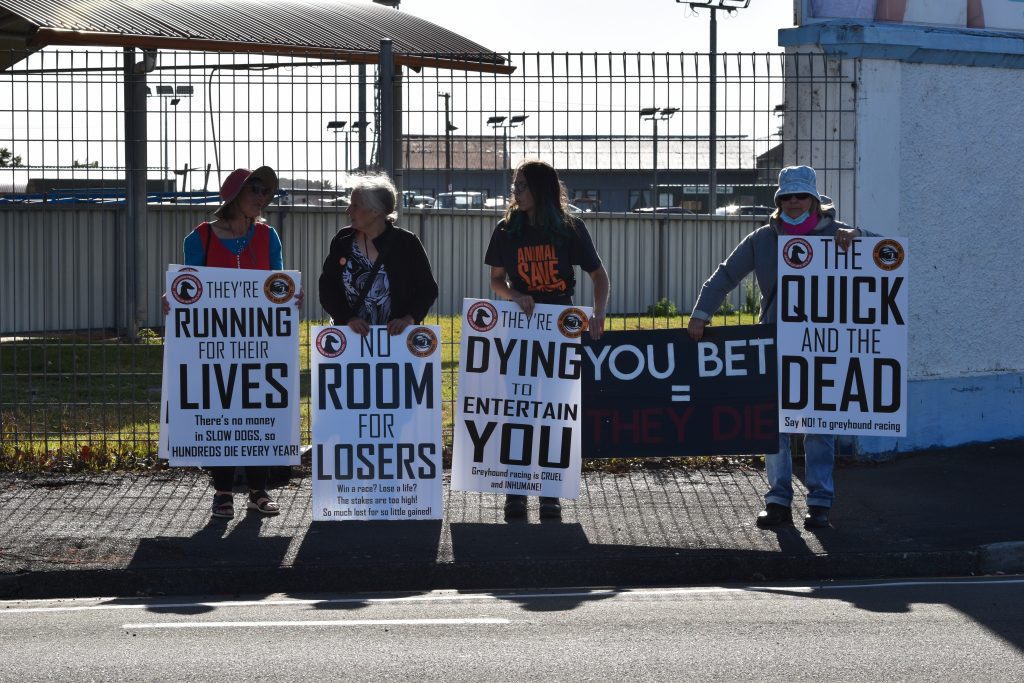 At one stage the President of the Club sent a security guard out to tell us that while we were taking photos from outside the premises they couldn't stop us, but the TAB owned the rights to all photos and if we published ours online, then they would sue us.  We shall see!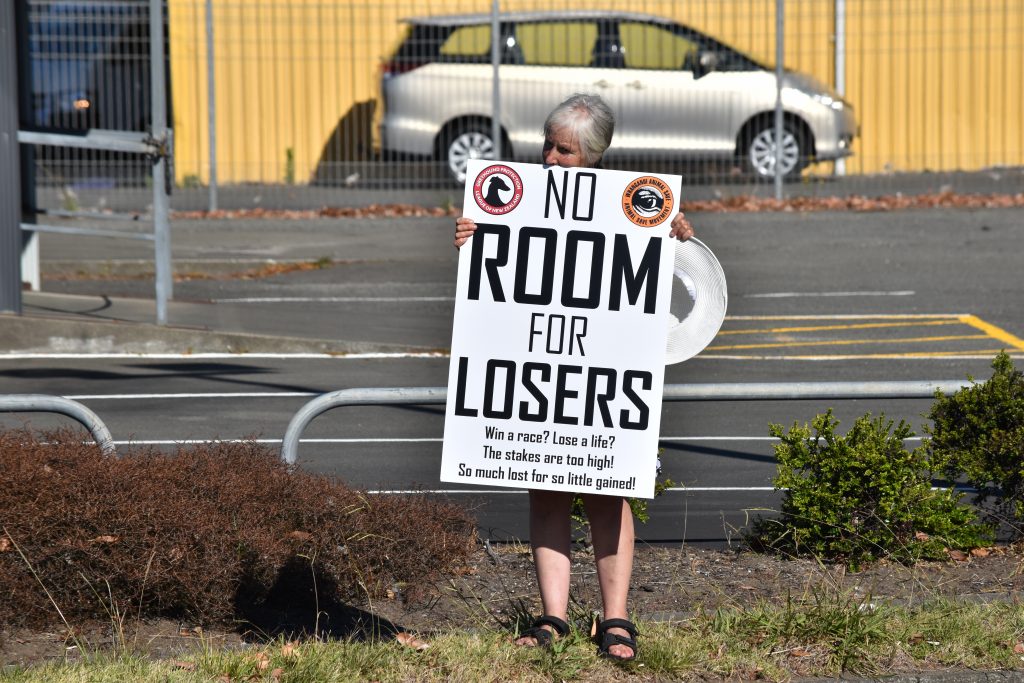 UPDATE:  There were several injuries noted during the races held at Whanganui's Hatrick Stadium on the 19th.   On the same day in Christchurch, the Steward's report noted that racer OUR COOK 'ran outwards final turn and faltered dropping away. Assessed by vet and found to have a fractured hock'.   It is likely that OUR COOK will be euthanized.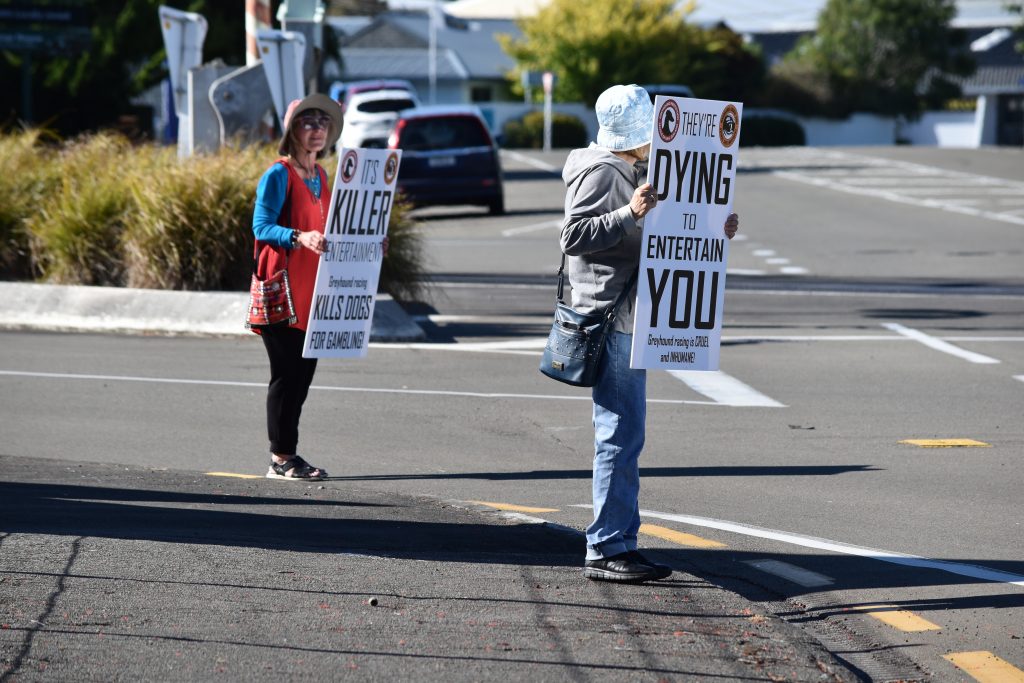 Trainers say they love their dogs, but it is a strange sort of love that constantly puts them in harm's way.   Greyhound Racing should be banned not only in New Zealand, but everywhere in the world.